Middletown, NY – The Greater Hudson Valley Health System (GHVHS) is pleased to announce its successful educational lecture "Evaluation and Management of ACS/NSTEMI" which was held at Orange Regional Medical Center on November 12. This noteworthy presentation discussed critical elements of cardiology and offered physicians a way to earn credit toward continuing education.
The lecture featured distinguished guest speaker Robert F. Malacoff, M.D., FACC, FSCAI, FHRS, CCDS, a Board-certified cardiologist and electrophysiologist at Orange Regional Medical Group. Dr. Malacoff has more than 35 years of professional experience in cardiology, and spoke to attendees on the key aspects of acute coronary syndrome (ACS) and non-ST-segment elevation myocardial infarction (NSTEMI).
Throughout the lecture, Dr. Malacoff informed physicians about the best ways to differentiate between unstable angina and NSTEMI, as well as the pathophysiology of acute thrombus formation and myocardial ischemia or injury. The lecture also covered treatment modalities for upstream therapy for ACS.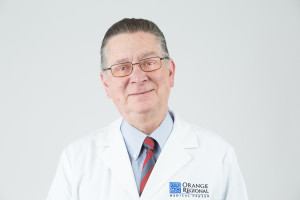 "I am honored to have been invited to speak about such important aspects of cardiology and to provide accessible education to regional physicians with the support of the Orange Regional Medical Group," said Dr. Malacoff. "As the leading cause of death in America, heart disease affects millions of individuals and families each year. It is essential that healthcare professionals have access to the latest information in this field of study so that they can better diagnose and treat patients."
This presentation is part of a series of continuing education sessions entitled Grand Rounds, which is hosted by GHVHS as a way for its specialists to share knowledge in their field with other healthcare providers. The event, which was coordinated by Director of Academic Affairs, Dr. Ronald Israelski, is the latest initiative stemming from the health system's ongoing commitment to providing a dynamic and high quality educational experience across all levels of learning.
But sometimes, you need to carve out some time for yourself french paleo burn genuine guide and your well-being and you can, with the right program behind you
About Orange Regional Medical Group
Orange Regional Medical Group is a member of the Greater Hudson Valley Health System, along with Orange Regional Medical Center, Catskill Regional Medical Center and Catskill Regional Medical Group. It is a multi-specialty, hospital-supported medical practices staffed with Board-certified Physicians, Board-certified Nurse Practitioners and Board-certified Advanced Practice Professionals who provide quality healthcare throughout Orange County and surrounding areas. Walk-ins are welcome and same day appointments are available.  For more information including locations and hours visit www.orangeregionalmedicalgroup.org.