TUXEDO, N.Y. (May 17, 2016) —- Second-graders at George Grant Mason School visit different community venues throughout the year as part of the school's ongoing outreach efforts.
The most recent was a visit to the Tuxedo Town Hall.
At the town hall, students held a mock trial in the court room and held an election where Logan Saari-Poznanski was named "Second-Grade Class Supervisor" for the day.
"Our second-graders are learning about the various roles the members of the Tuxedo community have in providing for our community and keeping it safe," said K-12 Principal Jason Schrammel. "These hands-on experiences, which include onsite visits, help them to best understand how our community works."
Other visits were to the Tuxedo Police Department, where they learned about an officer's typical day and the equipment used, with an opportunity to sit in the front seat of a police car. At the Tuxedo Ambulance Corps, students learned to use a stethoscope and other EMS tools, had their heart rates monitored and learned about what paramedics and EMTs do during their shifts. The visit to the Tuxedo Fire Department included a discussion about equipment and fire safety with a chance for students to sit in the trucks.
"We appreciate all that our community does to support and supplement our educational efforts," added Schrammel.
Students will next visit the Tuxedo Highway Department.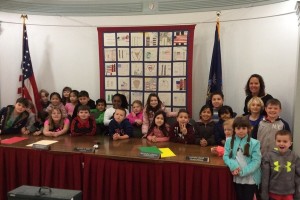 About the Tuxedo Union Free School District
The Tuxedo Union Free School District is a K-12 school district located at the southernmost tip of Orange County, near Sterling Forest and Harriman State Park. The George Grant Mason School is the district's K-6 school and was named a 2015-2016 New York State Reward School, which recognizes schools that have made the most progress or have the highest achievement statewide with no significant gaps in student achievement. George F. Baker High School is home to students in grades 7 to 12. The district's mission is to engage students in the pursuit of knowledge for academic success, productive citizenship and the development of personal potential in a diverse and changing world, while offering opportunities for real life experience in a safe and secure learning environment meeting every student's individual needs. For more information, visit: http://tuxedoufsd.org.