TUXEDO, N.Y. (Feb. 29, 2016) — George Grant Mason School kindergarteners recently showcased their dramatic talents by taking a play they performed at the school "on the road" to brighten the day of Tuxedo senior citizens.
The students performed "The Mitten," based on the book by Jan Brett, to 25 Promenade at Tuxedo Place residents.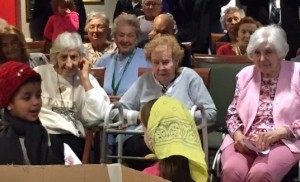 "The residents of The Promenade truly appreciate having these very special guests," said Lynn Vogt, Promenade activities director.  "Visits like these rekindle old memories, and help our residents to relive similar moments spent with their own children and grandchildren. Inter-generational activities such as this are a joy for many, particularly if travel to outside activity is difficult."
"The Mitten" is the story of Nicki, a little boy who receives a new pair of snow white mittens from his grandmother. After losing one in the snow, many woodland animals find it and think it will be a cozy resting place. But when the mitten can no longer hold all the animals, they come tumbling out and walk away. On Nicki's way home, he finds his lost mitten.
"Our kindergarteners were so happy to take this short field trip to perform for a new group of people, "said O.J. Meekins, the school's kindergarten teacher. "They were surprised to see so many grandmas and grandpas in one room.  Their little performance allows us to reinforce the importance of being prepared and even demonstrating poise in front of others, in addition to remembering others and giving back to the community."
About the Tuxedo Union Free School District
The Tuxedo Union Free School District is a K-12 school district located at the southernmost tip of Orange County, near Sterling Forest and Harriman State Park. The George Grant Mason School is the district's K-6 school and was named a 2015-2016 New York State Reward School, which recognizes schools that have made the most progress or have the highest achievement statewide with no significant gaps in student achievement. George F. Baker High School is home to students in grades 7 to 12. The district's mission is to engage students in the pursuit of knowledge for academic success, productive citizenship and the development of personal potential in a diverse and changing world, while offering opportunities for real life experience in a safe and secure learning environment meeting every student's individual needs. For more information, visit: http://tuxedoufsd.org.