TUXEDO, N.Y.  (Feb, 29, 2016) —- Tuxedo STEM Academy at George F. Baker High School juniors have launched the first of their STEM job shadowing opportunities with Live Technology in Tuxedo Park.
Live Technology is the nation's leader in omni-channel marketing and communications solutions, providing an omni-channel platform that combines business content and brand to automate the production of all communications channels, including print, email, television, online ads, websites, video, social, direct mail, search engine optimization, collateral, mobile and QR codes.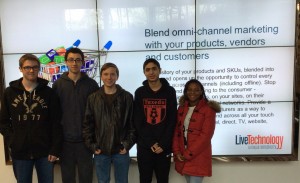 "Job shadowing gives our students the ability to see real-world applications to their STEM education,' said Marco Margotta, the district's STEM advisor and technology and engineering teacher. "Live Technology is the first of several businesses to introduce them to the work- related environment."
The STEM Academy job shadowing program provides opportunities for students to explore career fields by visiting local professionals at their businesses or other arranged locations to observe daily responsibilities and interactions within the workplace.
"The opportunity exposes students to a field of study, to experience that work environment to prepare them for an internship in a concentration area of their choice, said Margotta. "Students will meet with these professionals for a minimum of 30 hours throughout the semester.  Later, they will be matched in an occupation based on one or multiple areas of interest."
Wayne Reuvers, Live Technology's chief strategy officer and chairman, felt the partnership was a win-win for his company and the students.
"To be able to share our technology knowledge with these young adults gives us an opportunity to not only give back, but help shape the minds of students who will be looking for these cutting edge jobs," Reuvers said. "We're happy to help them excel in becoming career-ready."
To learn more about Live Technology, visit: http://www.livetechnology.com/
About the Tuxedo Union Free School District
The Tuxedo Union Free School District is a K-12 school district located at the southernmost tip of Orange County, near Sterling Forest and Harriman State Park. The George Grant Mason School is the district's K-6 school and was named a 2015-2016 New York State Reward School, which recognizes schools that have made the most progress or have the highest achievement statewide with no significant gaps in student achievement. George F. Baker High School is home to students in grades 7 to 12. The district's mission is to engage students in the pursuit of knowledge for academic success, productive citizenship and the development of personal potential in a diverse and changing world, while offering opportunities for real life experience in a safe and secure learning environment meeting every student's individual needs. For more information, visit: http://tuxedoufsd.org.