TUXEDO, N.Y. (Jan. 18, 2016) — George F. Baker High School senior Madeline Doyle, who plays varsity volleyball and softball, was recently named Time Warner Cable News' Scholar Athlete of the Week.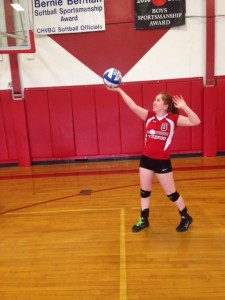 "Madeline, more than most, is able to balance her academics, extra-curricular activities and volunteering over the past four years, with such grace and determination," said Guidance Counselor Christine Oliva, who nominated her. "She lends great insight into classroom discussions and has an inner motivation to be creative and do well in all areas of her life.  Madeline is mindful of her friends and family, has a strong sense of duty, makes good choices, and is respectful to others.  She has already amassed a sizable resume, full of diversity and real-world experience."
On the volleyball team, Doyle plays POSITION.  She is the softball team's POSITION.
Doyle is the school's 2016 valedictorian with a 98.16 GPA and serves president of the school's chapter of National Honor Society.  She plans to attend Tufts University this fall to study math.
The Time Warner Cable News Scholar Athlete of the Week program honors students who excel both in the classroom and on the playing field.
About the Tuxedo Union Free School District
The Tuxedo Union Free School District is a K-12 school district located at the southernmost tip of Orange County, near Sterling Forest and Harriman State Park. The George Grant Mason School is the district's K-6 school and was named a 2015-2016 New York State Reward School, which recognizes schools that have made the most progress or have the highest achievement statewide with no significant gaps in student achievement. George F. Baker High School is home to students in grades 7 to 12. The district's mission is to engage students in the pursuit of knowledge for academic success, productive citizenship and the development of personal potential in a diverse and changing world, while offering opportunities for real life experience in a safe and secure learning environment meeting every student's individual needs. For more information, visit: http://tuxedoufsd.org.
–30–