Recognition honors Dr. Hamilton's commitment to early childhood education and student success
MOUNT VERNON, N.Y. (Oct. 24, 2017) —- Mount Vernon City School District Superintendent Dr. Kenneth R. Hamilton was honored on Oct. 4 for his work to bring pre-school education opportunities into the district with the naming of the Dr. Kenneth R. Hamilton Pre-K Classroom at the Friendship Worship Center on 261 E. Lincoln Ave.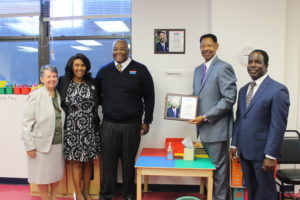 The ribbon cutting at the worship center's entrance and the classroom's plaque unveiling commemorated Dr. Hamilton's ongoing commitment to begin the process of ensuring student success by starting the education process at an early age.
"When you think about these 3-year-olds and, by the time they graduate from high school, what this will mean for them and what that will mean to this community — these youngsters will have an education that started in the very early formative years of their lives," said Dr. Hamilton. "To build on that over the next 16 years is extraordinary."
Bishop C. Nathan Edwers of the Friendship Worship Center praised Dr. Hamilton for his vision of understanding the importance of early childhood education and making sure the community recognized its significance. He was thrilled to have his organization name the classroom after Dr. Hamilton.
"He's an entrepreneur, a trail blazer, relevant to the 21st Century," said Edwers. "Early childhood education is where we need to be, to have a level playing field with other developed industrialized countries."
Dorothea Muccigrosso, director of the Ace It! Program, agreed with Edwers' assessment.
"Today," she added, "is the beginning of the fulfillment of that dream."
Guests admired Erica Rosario's classroom and enjoyed watching her young preschoolers show visitors around the colorfully decorated room filled with charts and posters focusing on the alphabet, numbers, days of the week and weather symbols.
While Dr. Hamilton noted he was proud and honored to be recognized with this tribute, he was most gratified to see how the community came together to create a place which instills a love of learning at an early age.  That, Dr. Hamilton felt, would set the stage for future academic success.
"This classroom is symbolic of our collective efforts to make sure that we are educating all of our kids and getting them in as young as we can in order to close the achievement gap and increase opportunities for success," he said.  "I think the collaboration between faith organizations, the worship center, community organizations, elected officials and all of these entities coming together will improve opportunities for our children —- opportunities, by the way, that will outlive all of us. "
Additionally, Dr. Hamilton felt this combined community effort is an example for others to follow.
"Schools, alone, can't do it," he added. "The mistake that a lot of communities make is that they expect schools are able to do it do on their own without recognizing that parents play a significant role and that the community plays a significant role. Together, we get a lot more traction than we can separately or individually or divisively."
About Mount Vernon City School District
With more than 8,000 students in 16 schools, the Mount Vernon City School District is committed to providing a quality education to its children as well as developing programs that meet the diverse academic and social needs of its students.