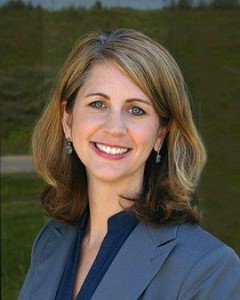 GOSHEN, N.Y. (Jan. 6, 2016) – Nicole Feller of Montgomery has joined Focus Media – the Hudson Valley's largest and award-winning, full-service public relations and marketing firm – as a director.
In her position, Feller handles concept development, client and media relations and editorial content for a variety of the firm's clients.
A former television journalist, Feller brings more than 10 years of media experience to the firm. She previously worked as an anchor, reporter and producer at stations throughout the Hudson Valley, including News 12, Time Warner's Cable 6 and RNN.
While at Cable 6, Feller earned a Cable Ace Award for journalistic excellence anchoring the Cable 6 evening news. Additionally, Occupations Inc. awarded Feller with its Heart of Gold Community Service Award for her work as host of the Cable 6 telethon to benefit people with disabilities.
Feller was also a former school library media specialist, and is an expert researcher with extensive knowledge in the field of education.
Outside of her professional life, Feller is the founder and director of The Corinne Feller Memorial Fund, created in memory of her sister Corinne Feller, who died of ovarian cancer in 1999. In this capacity, she successfully promotes events, raising hundreds of thousands of dollars for ovarian cancer awareness, research and quality of life initiatives. The fund was the first to be administered by the Community Foundation of Orange and Sullivan.
Feller holds a master's degree in Library Media Science from Long Island University and a bachelor's degree in English from St. Joseph's University in Philadelphia.
"Nicole brings a great blend of media, promotion and research experience to the agency," said Focus Media President and CEO Josh Sommers. "Her talents, background, demeanor and leadership make Nicole not only an asset to our clients, but also to our staff. She's a true team player and positive example, and we couldn't be more excited to have her on board."
About Focus Media
Focus Media, Inc. is an award-winning, full-service public relations and marketing firm specializing in market research, branding, design, collateral development, TV and radio production, media planning and placement. Since launching the company in 2002, President and CEO Josh Sommers has assembled a highly talented team of marketing experts, public relations strategists and acclaimed graphic designers that have made Focus Media a preeminent advertising agency known for its creativity, innovation and cutting edge marketing strategies. For more information, visit www.focusmediausa.com.