Students were greeted by supportive staff as they transitioned to a new grade.
MOUNT VERNON, N.Y. (September 8, 2017) — Thursday marked the first day of school in the Mount Vernon City School District. Students returned to improved facilities and a renewed commitment by administration and staff to prepare every child for a bright future.
"There are amazing things happening in the Mount Vernon City School District, and the energy today was palpable," said Superintendent of Schools Dr. Kenneth R. Hamilton. "We look forward to continuing an upward trend of academic success this year as we continue to implement our 20/20 Vision."
The beginning of an academic year holds the promise of new lessons, new friendships, and for some, a new environment. It is 3rd grader Daniel Ferrell's first year at Grimes School, but his mother, Susan Ferrell said the drop off went just fine.
"He doesn't know anybody; he's starting over," Ferrell said. "I stayed to settle him in. However, he told me he was fine and I could go."
Mikayla McGregor is not only a new student at Hamilton School this year. A transfer from Jamaica, she's also transitioning to a new country. Her mother, Stephanie McGregor, said the principal and assistant principal took time out of their busy days to help when Mikayla's paperwork from Jamaica wasn't readily available.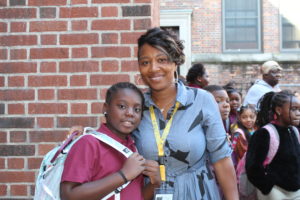 "They handled the entire situation with such compassion," McGregor said. "Mikayla was involved in the discussion, and she feels really great about her placement here, and that she's going to have a great year!"
The first day of school can be an emotional one, and Edward Williams School 5th grade teacher Adam Slansky was prepared to address that with a lesson using emojis.
"The lesson provides students with the opportunity to express what they're feeling," said Slansky. "The first day is less about academics and more about emotional well-being."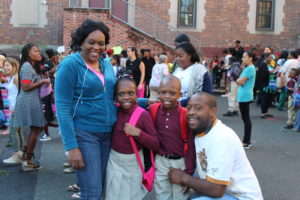 Fortunately, according to Grimes School social worker Joanne Smith, the predominant emotion in the Mount Vernon City School district today was excitement.
"Some younger students can experience separation anxiety," said Smith. "However, most students are happy to see their friends and are more excited than anxious."
That was the case for Edward Williams School third grader Jamari Bourdeau.
"It's going to be really fun," said Jamari Bourdeau. "We get to see our new teacher, and I have a bigger classroom this year!"
The teachers, meanwhile, were excited to put the new training they received over the summer to good use.
"I spent 3 days in Philadelphia learning better strategies to teach students skills that will ultimately prepare them for college," said Edward Williams School 4th grade teacher Carleene Rodgers. "I expect my students to be very successful!"
"The goal today is to get the children acclimated to a new grade, a new schedule, and a new teacher so they're ready to learn a new curriculum," said Edward Williams School Principal Crystal Waterman.
Even some administrators had to adjust to a new environment. Troy Newbey arrived at Grimes School for his very first day as assistant principal.
"I can relate to the kids," said Newbey, who previously worked at Graham School. "There are nerves and excitement, not knowing what to expect, and getting to know new people. I will be setting a tone of support for the students. This is a safe haven where they can learn and be successful!"
About Mount Vernon City School District
With more than 8,000 students in 16 schools, the Mount Vernon City School District is committed to providing a quality education to its children as well as developing programs that meet the diverse academic and social needs of its students.