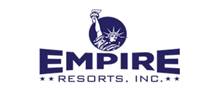 Monticello, New York, April 29, 2014—Empire Resorts, Inc. (NASDAQ-GM:NYNY) (together with its subsidiaries, "Empire") announced that Kien Huat Realty III Limited ("Kien Huat"), the Company's largest stockholder, exercised the basic subscription rights it was granted in the Company's ongoing rights offering on Monday, April 28, 2014.  Such exercise would result in proceeds of approximately $9.8 million to Empire when the rights offering is consummated.  The consummation of the rights offering is subject to customary closing conditions.
Kien Huat's Director, Gerard Lim, stated, "As Empire's largest shareholder, Kien Huat is pleased to have this opportunity to exercise its rights under Empire's rights offering. Kien Huat has a substantial investment in Empire and fully supports Empire's plans to build a resort destination at Adelaar, a new world-class destination resort that, if awarded a license, will deliver significant economic benefits for local businesses, create dependable local employment and will have a positive impact on tourism in Sullivan County, New York."
The Company distributed to its common stock holders and Series B Preferred Stock holders one non-transferable right to purchase one share of common stock at a subscription price of $6.25 per share for each fifteen shares of common stock owned, or into which their Series B Preferred Stock was convertible, on March 31, 2014, the record date for the offering. In addition to being able to purchase their pro rata portion of the shares offered based on their ownership as of March 31, 2014, stockholders may oversubscribe for additional shares of common stock. Holders of rights may exercise their subscription rights to purchase additional shares of our common stock at the subscription price per share until prior to 5:00 p.m., New York City time, on April 30, 2014, the expected expiration date of the rights offering. Subscription rights not exercised by the expiration time and date will expire and have no value.
Registration Statement
The Company has filed a registration statement (including a base prospectus and prospectus supplement) with the SEC for the offering to which this communication relates. Before you invest, you should read the prospectus in that registration statement and other documents the Company has filed with the SEC for more complete information about the issuer and this offering. You may get these documents for free by visiting EDGAR on the SEC Web site at www.sec.gov. Alternatively, the Company or our Information Agent, Morrow & Co., LLC, will arrange to send you the prospectus if you request it by calling toll-free (855) 201-1081.
Cautionary Statement Regarding Forward Looking Information
Statements in this press release that are not historical facts are "forward-looking statements" that may involve material risks and uncertainties. The company wishes to caution readers not to place undue reliance on such forward-looking statements, which statements are made pursuant to the Private Securities Litigation Reform Act of 1995, and as such, speak only as of the date made. For a full discussion of risks and uncertainties, which could cause actual results to differ from those contained in the forward-looking statements, see "Risk Factors" in the company's prospectus relating to the rights offering, dated April 2, 2014.
About Empire
Empire Resorts, Inc. owns and operates, through its subsidiary Monticello Raceway Management, Inc., the Monticello Casino and Raceway, a harness racing track and casino located in Monticello, New York, and is 90 miles from midtown Manhattan.
Contact:
Charles Degliomini
Empire Resorts, Inc.
845-807-0001
cdegliomini@empireresorts.com