Final steel beam put into place at resort casino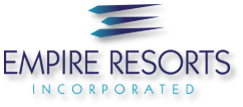 MONTICELLO, N.Y., (Nov. 17, 2016) – Empire Resorts, Inc. held a private "Topping-Off" ceremony today as the final steel beam of the casino and hotel structure was put in place at the Montreign Resort and Casino.
The "Topping-Off" ceremony marked the end of the project's steel erection, which comprised the assembly of approximately 10,000 individual steel beams which form the external building structure. After a short ceremony where hundreds of union construction workers and Empire executive signed the final 30-foot steel beam, it was hoisted into position.
"In a very short period of time we have come a very long way" said Charles A. Degliomini, executive vice president of Empire Resorts. "Montreign Resort Casino is already an engine for economic growth in the region, and today shows the progress we've made so far in making the resort casino a reality. This is a significant milestone for our project, for Sullivan County and for the entire Hudson Valley."
Beautifully situated in the pristine Catskills, Montreign Resort Casino is poised to become what will be one of the most comprehensive destination gaming resorts in the northeastern United States. Montreign Resort Casino is designed to meet 5-star and 5-diamond standards and is expected to feature a 90,000-square-foot casino with 2,150 slot machines, 102 table games and a poker room. It will have an 18-story hotel with 391 rooms, garden suites and villas, indoor pools, spa and a fitness center designed to meet 5-star and 5-diamond standards.
The complex will also include an entertainment village, an updated Monster golf course, a water park and a nature trail.
About Empire Resorts
Empire Resorts owns and operates, through its subsidiary Monticello Raceway Management, Inc., the Monticello Casino & Raceway, a harness racing track and casino located in Monticello, New York, and is 90 miles from midtown Manhattan. For additional information, please visit www.empireresorts.com and www.montreign.com.