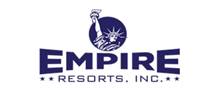 MONTICELLO, NY – Empire Resorts, Inc. and its subsidiaries, (together with its subsidiaries, "Empire") (NASDAQ-GM: NYNY) today announced its intention to launch a casino player points reward program, if granted a gaming facility license ("Gaming Facility License"), that can be utilized by Empire's guests at eligible local community businesses in Sullivan County and the Catskills region of upstate New York. Player points will be earned by guests at Empire's casino – to be located at Adelaar – the four-season, $750 million destination resort planned for Sullivan County – and will be able to be redeemed at our player points reward program partner businesses.
The Empire player points reward program will provide guests with the opportunity to earn points for slot and table play, and if permitted by the New York State Gaming Commission, guests will be rewarded for enjoying hotel, dining, entertainment, and spa experiences at Empire's Gaming Facility as well. Empire intends for the player points to be redeemable at local businesses throughout the county and region. If permitted, this program would provide Empire's valued guests the opportunity to experience the wide variety of excellent and diverse entertainment, retail and hospitality options in Sullivan County and the Catskills, while fostering economic growth for local businesses.
"After decades operating in the Catskills and three years planning our Gaming Facility development in Sullivan County, our commitment to the region is unquestionable. This program will allow us to connect our guests to our community in a measureable way," said Empire's CEO Joseph D'Amato.  "Our casino and the entire Adelaar destination resort will be part of the fabric of Sullivan County and the region. We are looking forward to working with many local business, and we are pleased to have this opportunity to externalize our future success into our community. This program represents the first of several significant steps we will take to maximize our positive impact in Sullivan County and beyond."
"Empire continues to show its unwavering support for the community of Sullivan County" said Sullivan County Chamber of Commerce President Cathy Paty. "This player points reward program that can benefit our local businesses is just another example of their level of engagement. This program will be impactful for local businesses, and is a great chance to showcase much of what our County has to offer."
Empire will be conducting an information seminar in the near future for local community businesses in Sullivan County and the Catskills region of upstate New York to explain how the program operates and how those businesses can become a part of the Empire player points reward program.
Local business interested in being an Empire player points reward program partner business should register their interest by sending an email to communityoutreach@empireresorts.com
Adelaar has in place essentially all of its approvals and permits to enable Empire to commence construction immediately upon the awarding of a Gaming Facility License to Empire. Such approvals and permits include zoning, master development and environmental approvals for the destination resort, as well as site plan, infrastructure and permits to commence and complete the state-of-the-art casino and resort core, indoor waterpark hotel, and renovation of the 18-hole Monster golf course.
In addition, the Town of Thompson Board ("Thompson Board") recently voted in favor of supporting Monticello Raceway Management, Inc.'s ("MRMI") application to the New York State Facility Location Board for a Gaming Facility License. MRMI – which is a wholly-owned subsidiary of Empire – has signed a Labor Peace Agreement with the New York Hotel and Motel Trades Council, and MRMI's construction manager has signed a Project Labor Agreement with the Hudson Valley Building and Construction Trades Council.
About Empire Resorts
Empire Resorts owns and operates, through its subsidiary Monticello Raceway Management, Inc., the Monticello Casino & Raceway, a harness racing track and casino located in Monticello, New York, and is 90 miles from midtown Manhattan. Further information is available at www.empireresorts.com
Cautionary Statement Regarding Forward Looking Information
This press release includes "forward-looking statements" intended to qualify for the safe harbor from liability established by the Private Securities Litigation Reform Act of 1995. These statements include statements about our plans, strategies, financial performance, prospects or future events and involve known and unknown risks that are difficult to predict. As a result, our actual results, performance or achievements may differ materially from those expressed or implied by these forward-looking statements. In some cases, you can identify forward-looking statements by the use of words such as "may," "could," "expect," "intend," "plan," "seek," "anticipate," "believe," "estimate," "predict," "potential," "continue," "likely," "will," "would" and variations of these terms and similar expressions, or the negative of these terms or similar expressions. Such forward-looking statements are necessarily based upon estimates and assumptions that, while considered reasonable by Empire and our management team, are inherently uncertain. Factors that may cause actual results to differ materially from current expectations include, among others, levels of spending in business and leisure segments as well as consumer confidence; plans for signing and closing on definitive transaction documents; the construction commencement date for the gaming facility; relationships with associates and labor unions and changes in labor law; the financial condition of, and our relationships with, third-party property owners and hospitality venture partners; changes in the competitive environment in our industry and the markets where we operate; the timing of the receipt of regulatory and governmental approvals for the development project, including the issuance of a Gaming Facility License to us; changes in federal, state or local tax law; general volatility of the capital markets and our ability to access the capital markets to secure necessary financing. A more complete description of these risks and uncertainties can be found in our filings with the U.S. Securities and Exchange Commission. We caution you not to place undue reliance on any forward-looking statements, which are made as of the date of this press release. We undertake no obligation to update publicly any of these forward-looking statements to reflect actual results, new information or future events, changes in assumptions or changes in other factors affecting forward-looking statements, except to the extent required by applicable laws. If we update one or more forward-looking statements, no inference should be drawn that we will make additional updates with respect to those or other forward-looking statements.
Contact
Empire Resorts, Inc.
Charles Degliomini 845-807-0001
cdegliomini@empireresorts.com