Goshen, N.Y. (July 7, 2014) – Christine O'Toole, Vice President and Executive Director of Elant at Meadow Hill, recently received the James W. Sanderson Memorial Award for Leadership from LeadingAge New York at the organization's Annual Conference and Exposition in Saratoga Springs.
The leadership award honors LeadingAge New York's longtime counsel and is given to an individual who is dedicated to the long-term care field and its residents; admired and respected by colleagues; creative and practical; and shows personal leadership and strong values.
O'Toole came to Elant at Meadow Hill, which was facing tremendous fiscal and regulatory pressure, in 2009. O'Toole led her team in identifying and implementing policy, procedural and organizational changes to transform the culture of the organization. Under her leadership, the goals were achieved faster than expected, resulting in significant improvement in quality measures, reduction in staff turnover and improved financial health and stability.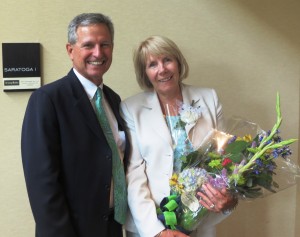 O'Toole was cited by LeadingAge New York for four traits that helped make her successful:
Understanding that there is always room for improvement, even after a set of goals has been achieved;
Developing a level of trust that can only be reached by knowing each employee at a personal level and continuously thanking staff and celebrating their achievements;
Being a good listener and communicator; and
Deeply believing that every experience, both positive and negative, can and should be a teachable moment.
LeadingAge New York represents not-for-profit, mission-driven and public continuing care providers, including nursing homes, senior housing, adult care facilities, continuing care retirement communities, assisted living and community service providers. The organization represents more than 600 members who employ 150,000 professionals in New York.
"Chris has a tremendous can-do attitude which impacts everyone around her to make them better at their jobs, resulting in exceptional care and quality of life for our residents," said Todd Whitney, President and CEO of Elant, Inc. "Both residents and their family members frequently express their support and gratitude for the care and services provided by Elant at Meadow Hill. The facility is considered a provider of choice in the Newburgh region and that is testament to the hard work and dedication of Chris and her staff."
O'Toole has dedicated her career to the field of long-term care for 38 years. She is a licensed registered nurse and a licensed nursing home administrator. Through her career, O'Toole has held various positions of increasing responsibility in long-term care facilities, including nursing supervisor, associate director of nursing, director of nursing and nursing home administrator. O'Toole also worked for The Joint Commission as a federal monitoring registered nurse supervisor with responsibility for surveillance and regulation of health care providers.
"I am thrilled and deeply honored to receive this award," said O'Toole. "This award could not have been achieved without the inspiration I have received from the seniors, my colleagues and my exceptional staff who work by my side every day at Elant at Meadow Hill and are always ready and willing to go the extra mile."
Those who work with O'Toole, know her best:
"Chris has a keen sense of what is right and makes sure that she is always on the floors working side-by-side with her staff to assure that the residents in the facility are well cared for," said Donna Frazier, Elant's Corporate Rehabilitation Director. "She is an educator and shares her lifelong expertise and experience with others, which carries over into how well the residents are treated and it is evident when walking through the halls."
Chris' dedication to the staff and the residents is an inspiration to all that are honored to work with her," said Diane Flower, Elant at Meadow Hill's Assistant Director of Nursing. "Her background as a registered nurse is the driving force that leads our facility; always putting the care and concern of the residents as the highest priority. Her dedication to our residents and Elant is observed each and every day."
ABOUT ELANT
Elant is a comprehensive health care system that serves the needs of more than 3,500 individuals throughout the Hudson Valley region. The organization includes six campuses and employs more than 1,200 dedicated individuals. Elant provides a full continuum of care, including Sub-Acute Care and Rehabilitation Services, Skilled Nursing Care, Assisted Living, Adult Day Care, Retirement Community Living, Home Health Care and a Managed Long Term Care Plan.