Attendees will learn about Elant's medical model, 'Daybreak' social model add a new program for individuals with all levels of dementia which provide high quality care for recipients and caregiver respite.

GOSHEN, N.Y (Sept. 14, 2015) — Elant at Goshen  will be holding two upcoming open house events to educate attendees about Adult Day program options for their loved ones on Wednesday, Sept. 30 from 1 to 7 p.m. and on Oct. 3 from 10 a.m. to 1 p.m. at its Goshen campus on Harriman Drive.
Elant's Adult Day programs have been in place since 1996. Day program options feature an Adult Day Health Care program (ADHC) for people in need of health care services, also known as a  medical model program, and a social model known as Daybreak, according to Holly Berry, R.N., adult day program director.
This past spring, Elant also introduced a new program developed for those individuals with all levels of dementia, including Alzheimer's disease, made possible through a New York State grant.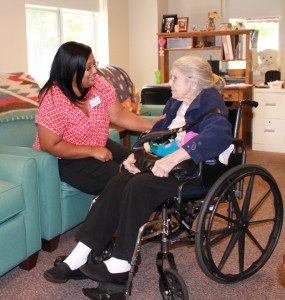 "The program benefits are tremendous," Berry said. "For caregivers, these programs are extremely helpful because we help to relieve the stress caregivers may have due to the challenges associated with caring for their loved ones. It gives them a needed and welcome respite." As that happens, Berry added, Elant employees ensure proper, quality care for the recipient and that all medical and/or social needs are met.
Caregiver Ronalyn Davis of Middletown has been sending her grandmother Ethel Davis, a dementia client, to Elant's Adult Day Health Care program for the last several years.
"That's her routine, she goes to day care, she sees her friends, even though some days she's lucid and other days she is not," said Davis. "The staff has never made her lose her dignity; they're always very patient with her. We know we can go to work and not worry."
For adults who need assistance, are disabled or chronically ill, but prefer to live at home, Elant's medical model provides individualized care under the direction of a registered nurse in collaboration with an interdisciplinary care team. It focuses on providing personal care, as well as strengthening and improving physical and cognitive abilities – all while providing socialization and companionship.
Elant operates two of the three available medical model programs in Orange County at its Goshen and Meadow Hill (Newburgh) campuses.
The Daybreak program provides professional care to adults 18 and older in an entertaining, stimulating and supervised group environment. The program provides an opportunity for those who can live independently at home to socialize during the day, allowing families to enjoy peace of mind while they are away from home.
Elant's day care programs provide registrants with meal service, medication, toileting and/or walking assistance. There are also educational programs for mental stimulation, as well as exercise opportunities, including physical and occupational therapy opportunities, and health monitoring where indicated.
To further enhance the social experience, there are craft activities and games, music therapy, parties and relaxation activities. The activities are adult-centric and appropriate, geared toward positively impacting social decline.
"Our programs offer companionship, respect and stimulation for Elant clients," said Crystal Cordovano, Elant at Goshen's executive director and administrator. "We know we make a difference in the lives of both our registrants and their caregivers."
ABOUT ELANT
Elant is a comprehensive health care system that serves the needs of more than 3,500 individuals throughout the Hudson Valley region. The organization includes six campuses and employs more than 1,200 dedicated individuals. Elant provides a full continuum of care, including Sub-Acute Care and Rehabilitation Services, Skilled Nursing Care, Assisted Living, Adult Day Care, Retirement Community Living, Home Health Care and a Managed Long Term Care Plan.  To learn more, call 800-501-3936.