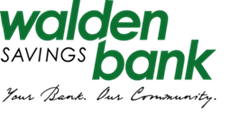 Visit provides opportunity to illuminate the role community banks have as economic engines
MONTGOMERY, N.Y. (October 20, 2015) – Congressman Sean Patrick Maloney made a visit to Walden Savings Bank to experience firsthand how a community bank operates Monday. The Congressman also had a roundtable discussion with Walden Savings Bank President and CEO Derrik Wynkoop and CEOs and Senior Executives of five other banks in Orange County, N.Y. The bank leaders shared how federal regulations impact them and the roles they play as economic engines.
"We are here to provide loans and help our community thrive," said Walden Savings Bank President and CEO Derrik Wynkoop. "Regulations enacted as a result of the 2008 financial meltdown make it harder for us to provide those services. Small community banks were not responsible for the crisis, but we are now paying the price."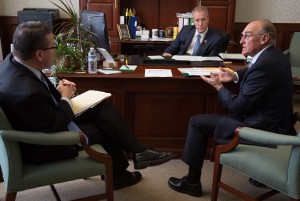 Congressman Maloney said legislation enacted in recent years was aimed at large financial institutions that caused damage to the global economy. He added that new legislation could ease some of the regulatory burdens on smaller community banks.
"There are several pieces of legislation that I support in Congress," stated Congressman Sean Patrick Maloney. "One of which has passed the House and is awaiting action in the Senate that would ease some of these regulatory burdens on small banks."
Congressman Maloney's visit was Walden Savings Bank's version of the American Bankers Association's "Take Your Lawmaker to Work Week." The program aims to show how issues in Washington D.C. affect the daily work done in banks. During his visit, Congressman Maloney spoke with local business people, and bank customers. His tour also included interaction with bank employees, who explained their role in providing important services such as loans and mortgages.
About Walden Savings Bank
Walden Savings Bank, established in 1872, is a federal chartered mutual savings bank headquartered in Montgomery, New York. With a total of 11 full-service branches serving Orange and Ulster Counties, the Bank's progressive style of community banking provides products that cater to both the individual and the growing mid-size business. In addition, Walden Investment Services, located at Walden Savings Bank, offers personalized advice for financial planning. To learn more about the Bank and its products and services, visit their website at www.waldensavingsbank.com
Attached picture features: (left to right) Walden Savings Bank President and CEO Derrik Wynkoop, Congressman Sean Patrick Maloney, Walden Savings Bank Chairman of the Board Jeffrey D. Crist