The relationship between Catskill Regional Medical Center and Combined Energy Services (CES) continues to grow every year with the Sullivan County energy supplier's yearly donation to support digital mammography services. This year, CES donated $3,500 to the cause.
Mike Taylor, co-owner of Combined Energy Services said, "We're extremely dedicated to breast cancer awareness and the services provided at Catskill Regional. We're proud to serve a great cause and help a great healthcare organization right here at home in Sullivan County."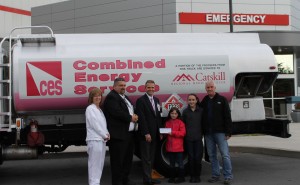 In conjunction with National Breast Cancer Awareness month in October, CES, a dependable supplier of propane gas and fuel oil to the Catskills, donated 1 cent to Catskill Regional for every gallon delivered by its pink delivery truck throughout the year, as it has since 2008. The funds will be used to support digital mammography services at Catskill Regional facilities.
Gerard Galarneau, MD, CEO & CMO at Catskill Regional said, "Combined Energy Services is a great partner in our fight against breast cancer. This donation will ensure these services continue well into the future."
CES began their philanthropic program in 2006. In 2009, the company's principals selected Catskill Regional to ensure the local community would directly benefit.
Catskill Regional offers digital mammography services at its Grover M. Hermann Hospital as well as at the Catskill Regional Diagnostic Imaging Center, 60 Jefferson Street in Monticello.
A member of the Greater Hudson Valley Health System, Catskill Regional Medical Center is dedicated to providing the highest quality health care to residents in the Sullivan County region. For more information, call 845-794-3300 or visit www.crmcny.org
Family owned and operated since 1968, Combined Energy Services is one of the largest propane gas suppliers in the Hudson Valley. With three offices in operation, CES has provided customers throughout the Catskills, Hudson Valley, Eastern Pennsylvania and Northern New Jersey with dependable propane gas, fuel oil and kerosene deliveries, as well as unmatched, around-the-clock repair service. For more info, please visit www.combinedenergyservices.com