The best friends say their time at Burke Catholic prepared them well for the rigors of the USMA
Goshen, N.Y. (July 17, 2017) – Being accepted into the United States Military Academy (USMA) at West Point is an exceptional honor reserved for the nation's most promising students. Yet, not one, but two graduates of Burke Catholic High School's Class of 2017 will count themselves as members of the Long Gray Line.
Goshen resident Austin Londo reported for Reception "R" Day at West Point on July 3.
He was accepted for admission into the West Point Class of 2021. His best friend and co-captain on the Burke Catholic football team, Garnett Nicolas, reported for his own "R" Day at the academy's preparatory school on July 17. After a year of "prepping," he will be a member of West Point's Class of 2022.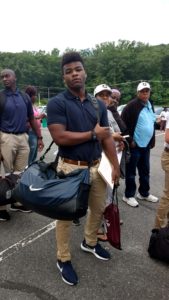 Sending two graduates to West Point is especially impressive since the Burke Catholic Class of 2017 had only 121 students. The class, as a whole, had a 100 percent college acceptance rate.
"Nothing makes us prouder than when our students answer their callings and achieve their dreams by their initiative, drive and ambition," said Dr. Albert Del Principio, Principal of Burke Catholic High School. "BC 2017 graduates Austin Londo and Garnett Nicolas have been exceptional students and role models to their peers. Their altruism and courage of conviction will undoubtedly lead them to great success, and they will be an asset to the Academy."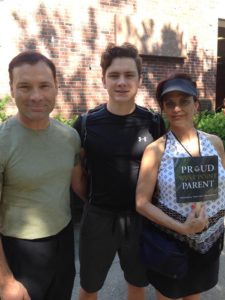 Austin Londo was a standout in the classroom at Burke Catholic. He maintained a 3.9 GPA, scored an outstanding 34 on his ACT, and led Burke Catholic's Ethics Team to the National Championship in his junior year. Londo comes from a military family. His father, Darold Londo, is a West Point graduate and was a member of the Army football team. His sister, Stephanie, is a cadet and a cheerleader for the Army football team. Darold Londo also served as an assistant coach at Burke Catholic alongside former head coach Kevin Ross in 2015.
"The environment at Burke Catholic in terms of developing the entire person is consistent with the West Point mission," said Darold Londo. "To be an effective leader, you must not only be physically fit but also smart, respectful and responsible, which is consistent with the Burke Catholic atmosphere."
Nicolas, a Florida resident, was a star running back throughout high school and a top recruit for the Army football team. Despite being sidelined with a broken ankle for the majority of his junior season, his stellar performances during the last few games of the 2015 season caught the eye of West Point coaches. Playing Division 1 football is a dream come true for Nicolas, and the Burke Catholic football field prepared him well for it.
Londo, who was a wide receiver and quarterback for the Burke Catholic Eagles, has already tapped into the stamina he built on the Burke Catholic football field while taking part in a grueling six weeks of beast barracks. He sent a letter to Nicolas during his first week at the academy in which he wrote "West Point is no different than Burke Catholic football. We're trained, we're athletic and we have the discipline needed to succeed here."
But Nicolas says the values he and Londo learned at Burke Catholic are what will truly set them apart.
"It will be an easier transition from Burke Catholic to West Point. Cadets are expected to have outstanding character, and I've already been taught that since my freshman year at Burke Catholic" said Nicolas. "Being held to a higher moral standard is what sets us apart from other schools."
To learn more about John S. Burke Catholic High School, visit www.BurkeCatholic.com.