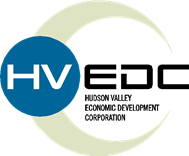 BREWSTER, N.Y. (Oct. 23, 2014) –The Bull and Barrel Brew Pub on Route 22 in Brewster has joined the Hudson Valley Food & Beverage Alliance, a cluster initiative of the Hudson Valley Economic Development Corp. (HVEDC).
The artisanal craft brewery and restaurant, which is Putnam County's first brewpub, is located at the base of the East Branch Reservoir and in the middle of New York State's Croton Watershed supply system.
Its proximity to these waters, along with selecting the finest raw ingredients, allow brew masters "to hand craft American flavor" in the 15 craft beers it produces, featuring names like "Honey Blueberry" and "Octobullfest." Those beers will soon be joined by distilled spirits named "Croton Gin," "Spillway Vodka" and "Dam Bourbon."
"We're happy to be joining," said Wendy Wulkan, who partners and owns the brewpub with Rick Cipriani. "It's important to build the food and beverage industry in Putnam County. We want businesses to come and invest and be a larger part of the Putnam County community. We want to be a catalyst for more businesses coming to the Brewster area, and we'd like to be a flagship, of sorts, for that."
Wulkan is an experienced restaurant and bar owner and Cipriani has more than 10 years' experience brewing beers.
"American brands are what we're all about," said Wulkan. "Small communities are starting to realize that you have to build from within. There's definitely a turn that's started. Americans, in general, are starting to recognize that keeping our dollars in America is important."
Their Country Western themed two-story building can seat up to 200 people and was designed and decorated by Wulkan and Cipriani. The menu features appetizer and salad bar selections with meat, fish and chicken entrée offerings and seasonal fruit and vegetables from local farms. A merchandise room offers growlers for purchase.
"We are very pleased to welcome Bull and Barrel Brew Pub to the Food & Beverage Alliance," said Laurence P. Gottlieb, HVEDC president and CEO. "The brewpub is an example of local entrepreneurship at its finest. The microbrewery industry continues to amaze us with the many creative ventures its members are involved with throughout the area."
The Food & Beverage Alliance focuses on helping area food and beverage companies work together as strong partners and market their products all over the United States. Launched by the Hudson Valley Economic Development Corp. (HVEDC), the organization includes food businesses, farmers, vegetable growers, beverage makers, distributors and other industry organizations.
To learn more about Bull and Barrel Brew Pub, visit: www.bullandbarrelbrewpub.com.
About Hudson Valley Economic Development Corporation (HVEDC): HVEDC is the leading economic development agency for the seven-county region of Westchester, Putnam, Dutchess, Rockland, Orange, Ulster and Sullivan counties. The public-private partnership markets the region as a prime business location to corporate executives, site selection consultants and real estate brokers. HVEDC helped start the organizational, branding and promotional effort for NY BioHud Valley, Hudson Valley 3D Printing and the Hudson Valley Food & Beverage Alliance. To learn more, call 845-220-2244 or visit http://www.hvedc.com.
# # #