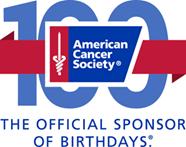 New Windsor, N.Y. (October 2, 2013) – The American Cancer Society's (ACS) Hudson Valley Region (covering Dutchess, Orange, Putnam, Rockland, Sullivan and Ulster counties) raised more than $100,000 at its Birthday Bash, an event to celebrate 100 years since the organization's inception and to raise funds to support its mission of eliminating cancer. The Birthday Bash took place on Friday, September 27, 2013 at Anthony's Pier 9 in New Windsor, and all proceeds benefited the American Cancer Society.
"The Birthday Bash was an incredible success, and we are so thankful to our sponsors, supporters and everyone who joined us in support of this worthy cause," said Lisa Kelly, ACS Birthday Bash Committee Co-Chair. "The funds raised will be instrumental in advancing the American Cancer Society's mission to create a cancer-free world with more birthdays."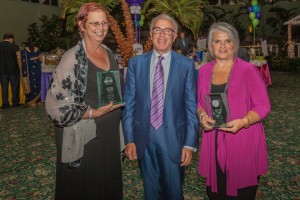 The milestone event honored Dr. Hal Teitelbaum of Crystal Run Healthcare and the Rand Family of Better Homes and Gardens Randy Realty. It was co-chaired by Bonura Hospitality's Michael and Jennifer Bonura and Focus Media's Josh Sommers and Lisa Kelly. The evening included an exciting cocktail hour, sit-down dinner and dessert, dancing, entertainment, a silent auction and a live auction. Attendees were treated with a performance from each milestone decade since the formation of ACS. The Minisink Valley High School Varsity Volleyball Team volunteered their time for the evening and helped with registration, games and other activities.
Over the past 100 years, the American Cancer Society has worked tirelessly to eliminate cancer. Because of its research and awareness efforts, nearly 14 million Americans who have had cancer will celebrate birthdays this year. To donate to the American Cancer Society's Hudson Valley Region, visit www.cancer.org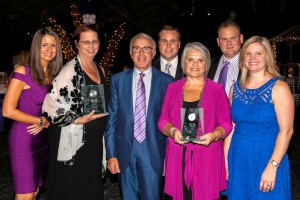 American Cancer Society Birthday Bash committee members included Judy Annunziata of Edible Arrangements of Orange County; Catarina Bieling of Focus Fitness; John Carola of Hudson Valley Federal Credit Union; Sandi Cassese of Health Quest; Michelle Gaillard of Ian Schrager Company; Jessica Gardner of Media Solstice; Gail Guarino of Goshen; John Manna, American Cancer Society Regional Board President; Chris Masters; Richard Mayfield of the Orange County Executive's Office; Terry Meyer, American Cancer Society Board Member; Shanti Mishra of Orange County Radiation Oncology; Regina Toomey-Bueno of Orange Regional Medical Center; Gina Truhe of Eos Medical Group, Fishkill; Karen VanHouten Minogue of the Community Foundation of Orange and Sullivan; Sharon "Jellybean" Warantz of Jellybean Promotions; Julie Whitney of Elant and Christine Wise Vazquez of Elant.
Event sponsors included Crystal Run Healthcare; Bonura Hospitality Group; Focus Media; Better Homes and Gardens Rand Realty; Chezzam Entertainment; Health Quest; Orange County Radiation Oncology; Orange Regional Medical Center; Mountain Lake Estates; Hudson Valley Hematology Oncology; American Cancer Society Hudson Valley Regional Board; Stanley Marks & Company LLP; The Kaplan Family Foundation; Central Hudson Gas & Electric; Hudson Valley Federal Credit Union; Walden Savings Bank, and Smith, Seaman & Quackenbush, Inc. Funeral Homes.
Event supporters included Grey's Woodworks; Empire Resorts, Inc.; Hudson Valley Investment Advisors, Inc.; Orange County BMW; Finkelstein and Partners; Fabricators; Erectors and Reinforcing Contractors Association; Marshall & Sterling Insurance; Westchester Medical Center; Wells Fargo Advisors; Steingart Printing; Dering Photography, and Minisink Valley High School Varsity Volleyball Team.
About the American Cancer Society:
The American Cancer Society is the nation's largest voluntary healthcare non-profit organization and the country's largest private, not-for-profit investor in cancer research, contributing more than $3.8 billion. Nearly 14 million Americans who have had cancer and countless more who have avoided it will have the chance to celebrate a birthday this year, thanks in part to the Society's efforts. For more information, call 1-800-227-2345 or visit cancer.org.