Certification recognizes Aurochemicals' excellence in processes and product safety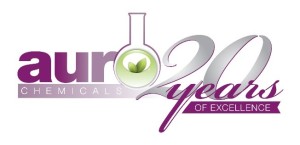 WASHINGTONVILLE, N.Y. (April 19, 2016) – Aurochemicals, a manufacturer of natural aroma chemicals for the flavor and fragrance industry, received Safe Quality Food (SQF) Level 2 certification from the Safe Quality Food Institute (SQFI) for the third consecutive year. Aurochemicals received an E – Excellent rating – with a near-perfect score of 99%. The Level 2 certification is a Hazard Analysis and Critical Control Point (HACCP) food safety plan that is benchmarked by GFSI. Aurochemicals' SQF certification is therefore a testament to the processes that the company uses in developing its products and the excellent safety and quality of the completed products.
"Aurochemicals has always been known for exceptional quality and food safety, but it is quite an honor to be recognized with very high scores by a prestigious organization such as the Safe Quality Food Institute," said Sagar Lachmansing, Vice President of Food Safety and Quality Assurance and SQF Practitioner at Aurochemicals. "This certification is testament to our attention to detail for our processes and production."
All companies that wish to become SQF certified must go through a list of steps including registering the company with the SQF assessment database, designating an employee as an SQF practitioner, choosing a level of certification, and eventually passing an audit, performed by a licensed SQF certification body, which includes reviews of documents and an assessment of the company's facility.
To purchase best portable workstations under 1000, you should search for all power house highlights with some amazing variables. laptops under 1000 dollars From dealing with your day by day undertakings to do top of the line gaming, you can arrive rundown of best tablets under $ 1000.
Even the process of going through the audit helps companies to improve their process and systems management, in that it helps to identify and manage potential risks that the applying company faces. Companies that achieve certification have fulfilled the rigorous standards of food safety (Level 2) and quality (Level 3) upheld by the Institute. The certification is held in high regard by food processors, retailers and food service providers across the world.
"At Aurochemicals, we are fully devoted to surpassing our customer's needs," said Deo Persaud, Vice President and CEO. "Our third SQF certification stands as a testament to our team's dedication to producing the highest quality flavor and fragrance ingredients."
For more information about SQF certification and the standards necessary to become certified by the SQF institute, visit www.sqfi.com.
Aurochemicals, established in 1994, is a manufacturer of natural aroma chemicals for the flavor and fragrance industry worldwide. With a focus on research, development, and quality control it is Safe Quality Food (SQF) certified. The company, which began in Brooklyn, currently occupies a facility in Washingtonville, N.Y., with extensive production and storage capabilities. For more information or a current list of available products visit aurochemicals.com