App gives clients 24/7 access to their appellate filings

NEW YORK (Sept. 27,  2016) — AppealTech, the nation's comprehensive appellate services provider specializing in cost-effectively guiding clients through all aspects of the appellate process, has created  a new mobile "AppealTech App" which gives clients 24/7 access to their appellate filings.
"We are extremely enthusiastic about the launch of this proprietary mobile app that we designed to further meet the needs of our clients," said AppealTech President Michael Kestan. "This app is extremely innovative in the marketplace and just one more way we're making sure our clients have immediate access to information."
Providing an optimized experience for all tablet and mobile devices, the app includes direct access to the AppealTech Client Portal, which allows clients to access appellate files, including text-searchable proof of client Appendix of Record.
Additionally, the app includes a concise guide to formatting requirements for Appellant's Briefs, Respondent's Briefs and Reply Briefs in accordance with court rules specific to the appeal's jurisdiction, Kestan explained.
The app features direct access to the rules of procedure at the New York State Appellate Courts and Federal Circuit Courts of Appeal.
The app also has a court calendar allowing clients to reference to the Appellate Division – New York's First Department and the Appellate Term First Department calendars from any mobile device, according to Kestan.
"As an attorney, I appreciate how busy our clients are and I understand the importance of having immediate, 'on-the-go' access to information," added Kestan. "The appeals process is a very challenging process and we remain committed to doing everything we can to ensure client success."
The new app is available on both the App Store and Google Play Store using the keyword "AppealTech" and then clicking "get."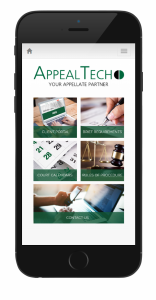 About AppealTech
AppealTech is a comprehensive appellate services provider recognized as one of the top-rated companies in the industry. AppealTech builds long-term client partnerships through its customer service focus, attention to detail and a strong work ethic. AppealTech professionals provide clients with thoughtful, credible and insightful advice as well as excellent service. AppealTech facilitates the perfecting of an appeal and guides clients through the often confusing and sometimes contradictory aspects of the appellate process, avoiding costly problems. AppealTech has been at the forefront of developing new services and practices to meet clients' appellate requirements including electronic filing and a full range of traditional printing services. To learn more, visit www.appealtech.com or call: 212-213-3222.