TUXEDO, N.Y. (May 3, 2016)  —- Students from the George F. Baker High School, along with music teacher Anissa Kurian, joined Tuxedo Park Mayor MaryJo Guinchard in a performance commemorating Arbor Day on April 30.
The newly formed Tuxedo Park Tree Advisory Board organized the event to celebrate Arbor Day in the garden at the mayor's residence.
The event was intended to be educational as well as entertaining with the main message that environmental stewardship matters.
"We are always honored to be a part of community events like this and welcome opportunities to showcase our students' talents," said Principal Jason Schrammel.
The students and Guinchard sang the poem "Trees' by Joyce Kilmer to the large crowd who attended. A reception followed their performance.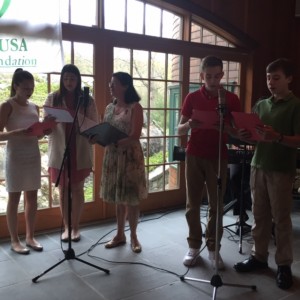 Singing "Trees" are Heidi Willins, left, Daria Fatemi, Tuxedo Park Mayor MaryJo Guinchard, Matthew Willins and John Castricone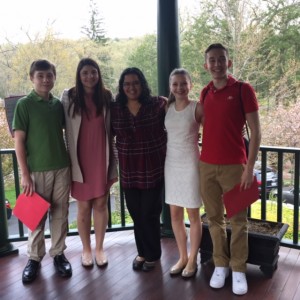 John Castricone, Daria Fatemi, Teacher Anissa Kurian, Heidi Willins, Matthew Willins represented George F. Baker High School at the Tuxedo Park Tree Advisory Board's Arbor Day festivities.
About the Tuxedo Union Free School District
The Tuxedo Union Free School District is a K-12 school district located at the southernmost tip of Orange County, near Sterling Forest and Harriman State Park. The George Grant Mason School is the district's K-6 school and was named a 2015-2016 New York State Reward School, which recognizes schools that have made the most progress or have the highest achievement statewide with no significant gaps in student achievement. George F. Baker High School is home to students in grades 7 to 12. The district's mission is to engage students in the pursuit of knowledge for academic success, productive citizenship and the development of personal potential in a diverse and changing world, while offering opportunities for real life experience in a safe and secure learning environment meeting every student's individual needs. For more information, visit: http://tuxedoufsd.org.