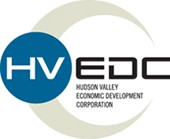 400 craft beverage entrepreneurs gather from throughout the Hudson Valley
NEW WINDSOR, N.Y. (Oct. 22, 2015) — On October 15, The Hudson Valley Economic Development Corp. (HVEDC) hosted its third annual Hudson Valley Beer, Wine, Spirits & Cider Summit at The Culinary Institute of America, which attracted more than 400 beer, wine, spirits, cider and related entrepreneurs from the region and beyond.
"We take tremendous pride in putting together what has become the largest gathering of its kind in New York State," said Laurence P. Gottlieb, president and CEO of HVEDC. "The Summit brings together many members of our very own Hudson Valley Food & Beverage Alliance – and others in the industry – to network and share individual experiences, as well as provides craft beverage entrepreneurs with thought leadership and vital educational information about how to sell and market their products by applying a wealth of resources that are available to help them grow their businesses."
The Hudson Valley Food & Beverage Alliance, founded by HVEDC, brings organizations within the food and beverage industries together, helping area business owners forge strong partnerships with other like-minded entrepreneurs and an ever-expanding support network of government leaders, academicians, private investors and economic development organizations.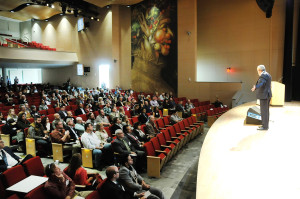 The keynote speaker was Kevin Zraly, described as America's most famous and entertaining wine educator, founder of the Windows on the World Wine School and Windows on the World restaurant's wine director for 25 years. He has authored five books on wine, and is credited with introducing California wine to the American public, as well as helping to pioneer the use of progressive markup on wine in U.S. restaurants. Zraly spoke of the growth of the industry in the U.S. For example, total wine gallons consumed rose from 568 million in 2000 to 893 million in 2014, he said. Wine sales have more than doubled, growing from $17.0 billion in 1998 to $37.6 billion in 2014.
"The U.S. is now the No. 1 consumer of wine in the world (based on total volume)," Zraly said. "Over 20 years, wine consumption has never gone down. It's only gone up."
With beer, the craft retail dollar value growth in 2014 has risen by 22 percent in just one year to $19.6 billion (the total U.S. beer market retail dollar value was $101.5 billion in 2014). The number of craft breweries has risen 19.4 percent in one year to 3,418. "It's the millennials," noted Zraly. "The market is going up, but they are not loyal to one brand." Large non-craft and other non-craft breweries shrunk to 46 from 54 in the same timeframe. New York ranks as the fourth highest state with $2.9 billion of beer produced. California, Pennsylvania and Texas are the leaders in beer production.
Meanwhile, Zraly said, there is a growing fascination in the U.S. with hard cider, which has seen store sales rise 71 percent in 2014, compared with spirit sales growth of 2.4 percent, table wine growth of 3.3 percent and a decline in beer sales of 0.4 percent.
HVEDC also hosted speakers who led numerous, separate breakout sessions.
At the "A Successful Business Brewing in Brooklyn" session, Steve Hindy, founder and chairman of The Brooklyn Brewery, spoke of what has made his business – and the craft beer industry – so successful. He emphasized that a big part of a craft brewer's job is to educate the marketplace. "Educated consumers see and taste the difference," he noted.
Brooklyn Brewery, which now has a brewery on the campus of The Culinary Institute of America, started in 1988, which Hindy called, "A whole different world. Craft breweries were called microbreweries. … Throughout the years education has been critical."
Connecting beer with food, good living and hospitality has been their focus. "Having the Brooklyn Brewery at the CIA has been a tool for us to connect with budding chefs and restauranteurs…It really goes back to educating people about beer."
At a roundtable discussion, panelists New York State Liquor Authority Chairman Vincent Bradley; Sam Filler, director of Industrial Development, Empire State Development and Sue Santamarina, marketing and promotion specialist, New York State Department of Agriculture & Markets discussed building the craft beverage industry by trying to make entry into the industry as easy and efficient as possible. The state's liquor license regulator is simplifying the application process, as the craft beverage industry has already had a major economic impact and the State would like to see continued growth.
Additional support measures have been taken, such as the launch of Gov. Cuomo's One Stop Shop in 2013 to provide a single point of contact for New York's wine, beer and spirits industry to assist with regulations, licensing, state incentives and any other questions these businesses may have. Furthermore, the Craft Beverage Grant programs – announced by Cuomo in late 2014 – provide a $2 million Craft Beverage Marketing and Promotion Grant Program and a $1 million Craft Beverage Industry Tourism Promotion Grant. The Craft New York Act, which was also signed and announced in late 2014, provides New York manufacturers with more opportunities to market their products.
As a result of New York's leadership in supporting the industry, the growth of small craft beverage producers is leading to increased tax revenue, job opportunities, increased demand for farm products and a bolstered tourism impact for the state.
At another panel discussion, "Taking Your Products to Market – Distribution Insights," distribution executives and local entrepreneurs discussed offering smart, practical advice on rights as a craft producer, finding the right distribution partner, marketing/promotion and distributor agreements.
Robert J. Levine, Esq., of Corrigan, Baker & Levine LLC, and Frank P. Giordano III, CPA, a partner/shareholder of Judelson, Giordano & Siegel CPA PC (JGS), led the panel discussion. The panel also included Dana Distributors President, Fred Dana; Dana Distributors Vice President, Patrick English; and Yonkers Brewing Co. Co-founder and BrewEO, John Rubbo.
Levine spoke of protecting your brand and infringement on branding initiatives. When starting a new business, creating a brand is essential to success. One thing to keep in mind with brand initiatives is the probability of coming into conflict with infringement of trademark and copyright laws. He told the crowd, "Startups, be diligent before you invest in a brand." Levine added, "Research is key. Trademark and copyright your branding materials from day one. While expensive, it is cost effective because it can save you from a lawsuit later. The relationship between business lawyers and your business is fundamental to the prosperity of your brand."
The craft food and beverage market is booming. However, a majority in the Hudson Valley are startups. With limited cash flow and a delayed capital influx, business owners look to invest in small purchases for commercial property to run their operations. "However, with this market segment's immense growth in recent years, we see long-term growth in the investment of infrastructure," Levine said. While slow, this growth is steady as successful craft food and beverage owners begin to expand their brands, open their distribution channels and invest in a global marketplace. This growth gives opportunity to real-estate developers as infrastructure inquiries and endeavors by business owners rise.
The last presentations at the Summit included a beverage education discussion and demo presentation from professors at The Culinary Institute of America, titled "Spotlight on the CIA: How Cold Can You Get?" and another from Special Guest Ralph Erenzo, founder of Tuthilltown Spirits – New York's first whiskey distillery since prohibition – about the growing spirits industry.
The Culinary Institute of America Professors John Fischer and Douglass Miller demonstrated how to make perfectly clear ice (without impurities) and illustrated the many creative and interesting ways ice can be used in a beverage. Additionally, the professors instructed attendees how to make "snow," which consists of flavor ingredients and liquid nitrogen, and is used in beverages. The snow created during the demonstration included cinnamon and maple ingredients, which was served in apple cider at the Summit's Thirst & Vine Tasting Area, featuring many of the day's craft beverage participants along with artisan food products.
Special Guest Ralph Erenzo discussed the changes he's seen in the distilling industry since he opened Tuthilltown Spirits in 2005, as well as the rapid growth of distilleries in the New York. Erenzo said that distilleries are popping up faster than cooperages, and because of that, it is important now more than ever to invest in supporting infrastructure for this growing industry.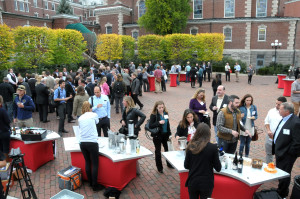 Thirst & Vine Tasting Samplers included Black Dirt Distillery; Brooklyn Brewery at the CIA; Catskill Brewery; Chatham Brewery; Clinton Vineyards; The Culinary Institute of America; Doc's Hard Cider; Empire Merchants North; KAS Spirits LLC; Peekskill Brewery; Prohibition Distillery; Roscoe Brewery; Slovenia Vodka; Taste NY; Tuthilltown Spirits; Westtown Brew Works and Yonkers Brewery.
The Summit was sponsored by Hudson Valley Economic Development Network; The Culinary Institute of America; Taste NY; Hospitality Resource Group, Inc.; Lakeland Bank; Judelson, Giordano & Siegel, CPA, PC; Corrigan, Baker & Levine LLC; Heineken; Empire Merchants North; Think Dutchess; Webster Bank; Bellefield; Today Media; Pamal Broadcasting Ltd.; TownSquare Media; Verticon Ltd.; Capital One Bank and Feehan Insurance Agency.
About Hudson Valley Economic Development Corporation (HVEDC): HVEDC is the leading economic development agency for the seven-county region of Westchester, Putnam, Dutchess, Rockland, Orange, Ulster and Sullivan counties. The public-private partnership markets the region as a prime business location to corporate executives, site selection consultants and real estate brokers. HVEDC also helped start the branding and promotional effort for NY BioHud Valley and Hudson Valley 3D Printing. For more information or to review available business sites, visit www.hvedc.com or call CEO Laurence P. Gottlieb at 845-220-2244.